Do you need a super easy Valentine's craft for school, day care or home?  We've got just the craft for you!  It's inexpensive, easy and requires very little time. In our book, that's the perfect kind of craft!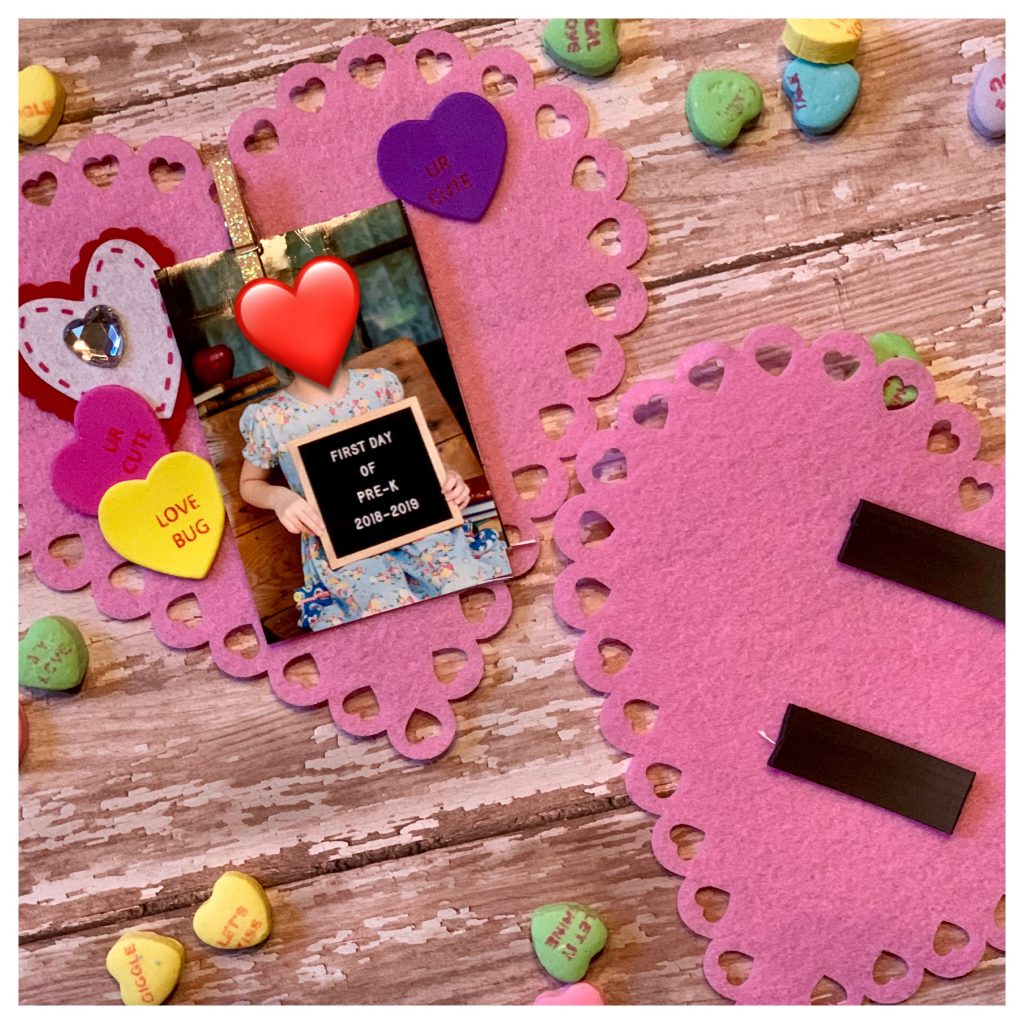 We are in charge of this year's Pre-K Valentine craft.  It needs to be something little hands can make in 5 minutes or less.  We headed straight for our local Dollar Tree. Voila!  They had all kinds of hearts; foam hearts, glitter hearts, felt hearts, sticker hearts…..  We loaded up with one of everything and headed home to create.  We came up with so many fun and cute things, but this felt heart picture hanger came out on top!  With just a little pre-assembly on your part, all the kiddos have to do is add their own sticker hearts.
What You Need:
From Dollar Tree
felt hearts (8 per package)
conversation heart stickers (90 per package)
jewel heart stickers (26 per package)
mini clothespins (50 per package)
mini red solo cups (***optional- see below for use)
Other:
roll of magnets
hot glue gun & glue sticks
school picture of each child (optional)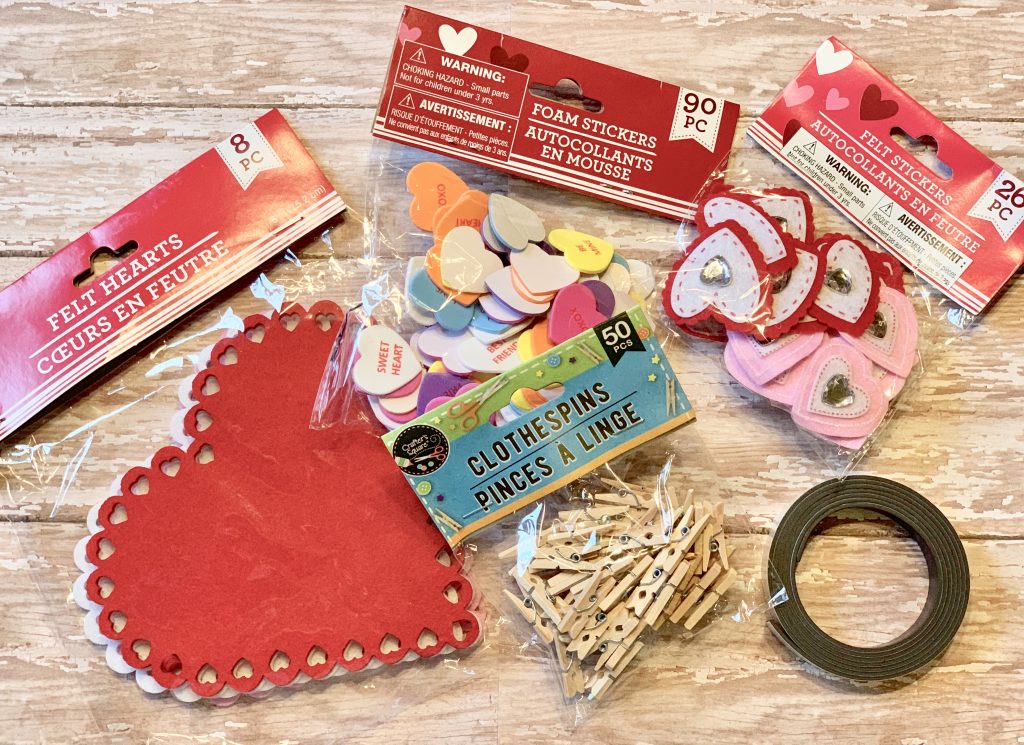 Pre- Assembly: (to be done by an adult)
Using a glue gun, glue one mini clothespin to each felt heart.  We glued ours in the middle, but you can place it anywhere.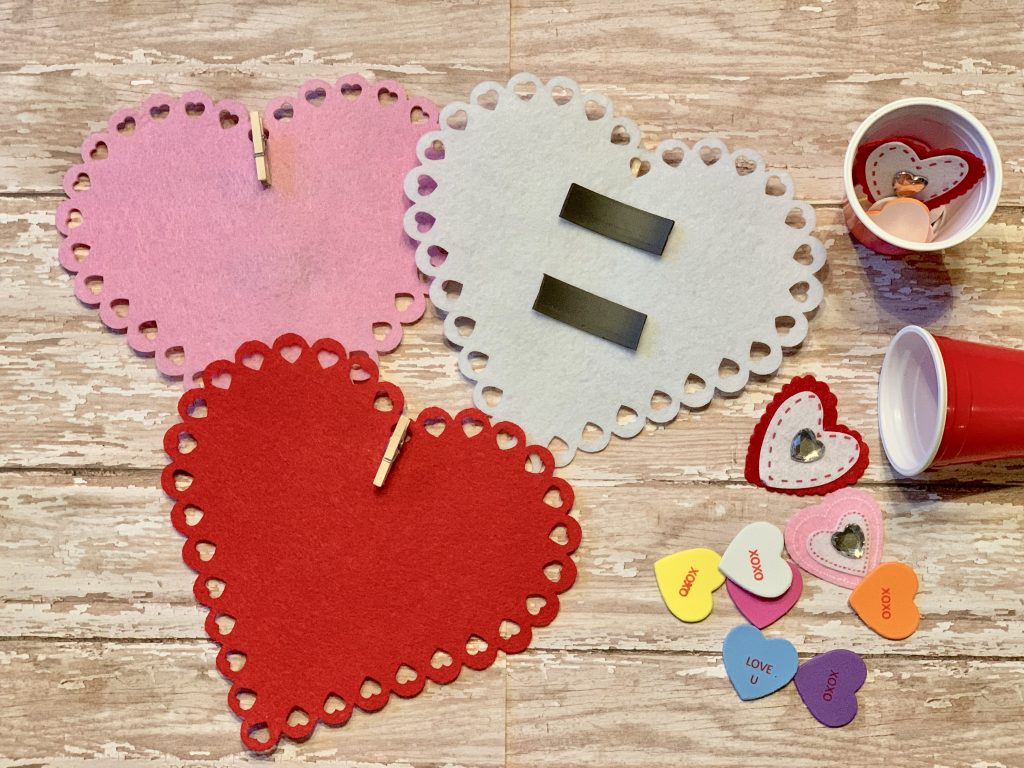 2.  Cut 2 small magnet strips and adhere to the back of each heart.
That's it!  Your part is basically done!  We took the extra step of counting out the same amount of stickers (no fighting, right?!)  for each child to use for decoration.  For quick and easy hand out, we put the stickers in individual mini solo cups to be handed out on party day. The picture below is an example of what each child will receive. If you have a school picture of each child, include it here as well.  Now for the fun part, decorating!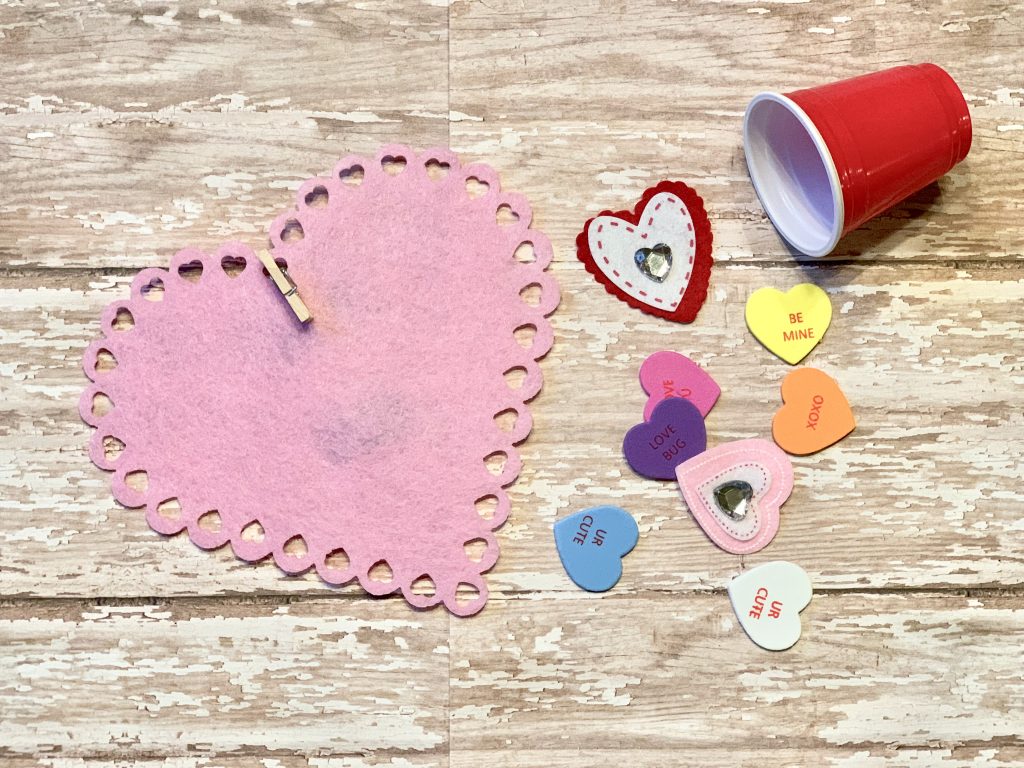 To make my life easier, I loaded everything up in this awesome plastic tub I also found at Dollar Tree.  It's microwave, dishwasher and freezer safe!  I'm obsessed with it!  So obsessed, that I went back and bought 4 more.  They are the perfect size for freezing cookies and muffins for the holidays, carrying appetizers or crafts to baby showers, birthdays, etc.  Love, love, love them!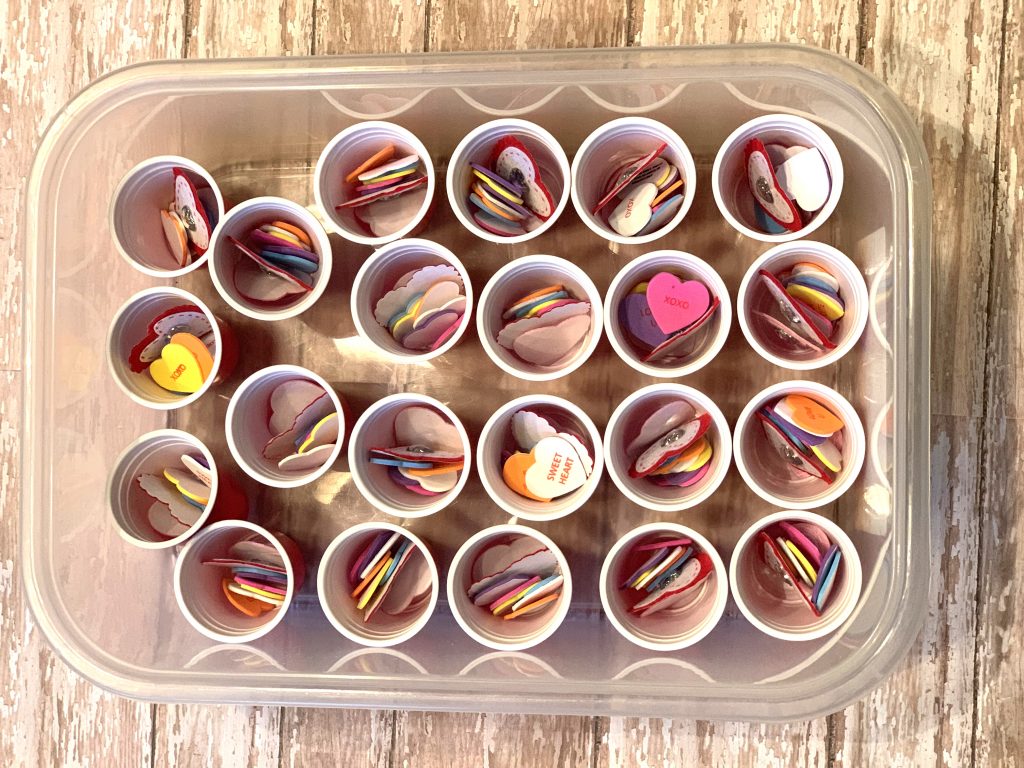 Do you love our Felt Heart Picture Holder?  Check out some of our other favorite Valentine's Day activities and recipes.
Valentine's Day Crafts, Books and Activities
Candy Heart Numbers and Math Activities 
Valentine's Shortbread Cookies
Chocolate Covered Strawberry Bar
Our Favorite Valentine's Books