If you read my post about Operation Catch a Leprechaun, you know that I am Z-E-R-0 percent Irish even though I grew up my entire life thinking I was 25%!  A simple ancestry DNA test burst my Irish bubble!  My husband is awaiting his results.  Fingers crossed that he, at least, is a tiny bit Irish so Miss 4 can be too!  No matter the result, we are still going to celebrate every St. Patrick's Day like we always have, with a big meal of corned beef and cabbage!  After all, isn't everyone a little bit Irish on St. Patrick's Day?  Check out our fun Leprechaun traps 2018.
*****Update:  We have since received updated DNA information and guess what??? I'm 8% Irish and Scottish!  ************
I've been tweaking this  recipe over the years and think this year it has been perfected!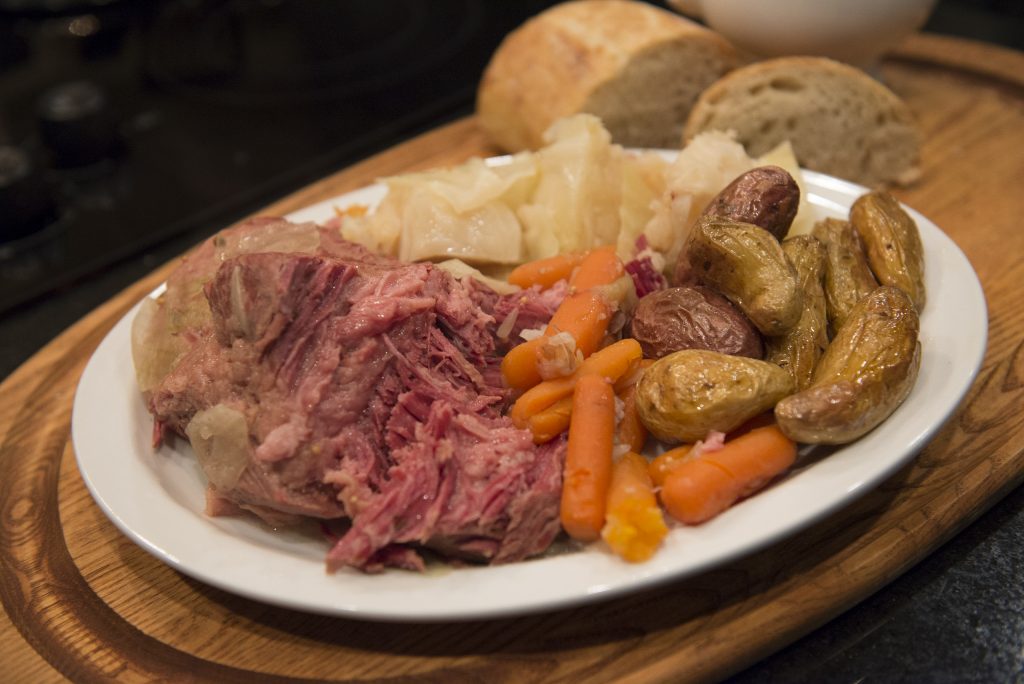 We topped off the meal with a delicious apple cake recipe that we found in a lovely children's book we found at our local library.  Apple Cake A Recipe for Love by Julie Pasckhis is a beautiful story about a boy who tries to get the attention of a book loving girl.  The only way he can get her nose out of her book is by making her an apple cake.  Paschkis uses her great grandmother's apple cake recipe and turns it into a beautiful love story.  It's like a love story within a love story!   Apple Cake read s just like a recipe, with Alfonso, our hero, finding ingredients in the loveliest of places-  salt from the sea, eggs from a nest, butter from the sun..   It is one of the easiest and most delicious apple cakes we have ever eaten!  We think it is a perfect finish to our corned beef and cabbage meal!  Read about some fun activities we did with Apple Cake here.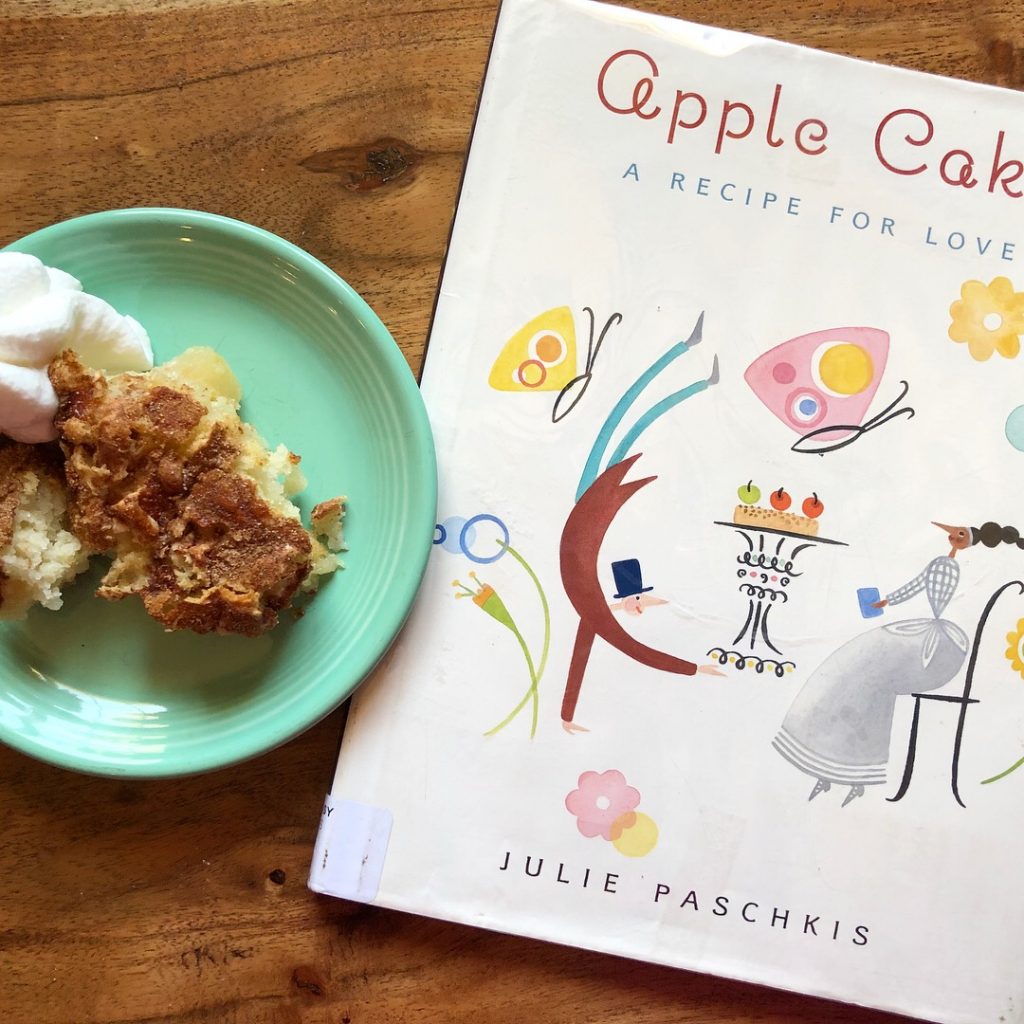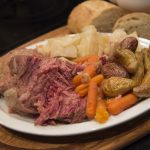 Corned Beef and Cabbage with Irish Mustard Sauce and Roasted Fingerling Potatoes
Enjoy a traditional Irish dinner this St. Patrick's Day. Top off the meal with a delicious apple cake.
Ingredients
4

pound

corned beef brisket

1

bunch

carrots, cut into 3 inch pieces

2

lbs

cabbage, cut into wedges
For Mustard Sauce:
1

tbsp

cornstarch

2

tsp

sugar

1.5

tsp

salt

1

cup

water

1

tbsp

butter

2

tbsp

apple cider vinegar

2

egg yolks

1

tsp

dry mustard
For the Fingerling Potatoes
1-2

packages

fingerling potatoes

olive oil

kosher salt or sea salt
Instructions
For Corned Beef:

Place corned beef in large pot; cover with cold water. Bring to boil; discard water. Add fresh water to cover and the seasoning packet that comes with corned beef. Bring slowly to boil; uncovered. Skim foam. Cover, simmer gently about 4 hours. At the 3 hour mark, add the carrots to the water and bring back to a boil. Lower heat and simmer. At the 4 hour mark add cabbage wedges, cover and simmer 20 minutes or until cabbage is cooked.

For Fingerling Potatoes: (put potatoes in the oven at the same time as cabbage goes in the pot)

Preheat oven to 500 degrees. Wash and dry potatoes and place on a lined baking sheet. Toss with olive oil and sea salt. Roast for 20 minutes.

For Mustard Sauce: (prepare while potatoes are roasting)

Combine cornstarch, sugar, mustard, and salt in a heavy quart pan. Add water. Stir over low heat unitl mixture thickens and boils. Remove from heat; add butter, and vinegar. Beat a little of the hot mixture into the egg yolks, then add yolk mixture back into the pan. Cook slowly, stirring until sauce thickens slightly. Serve over corned beef and vegetables.
Check out our Leprechaun traps 2019
and our leprechaun traps 2018