Did you just remember that you are in charge of bringing drinks and treats to the soccer game in 2 hours? Is tonight the neighborhood Halloween party?  Did you sign up to bring a salty or sweet treat to the kindergarten fall party?  No fear!  We are compiling a list of all of our favorite Halloween treats that we have made over the years.  Most require little to no cooking and very little assembly. Now that we've entered the world of school parties we want some ideas we can fall back on.
Mummies 
This is about the fastest and easiest treat you can bring.  We brought these as soccer snacks.  Why we love it?  You can basically wrap anything!  All you need are some white streamers and google eyes- both purchased from Dollar Tree. Here we wrapped juice and squeeze apple sauce.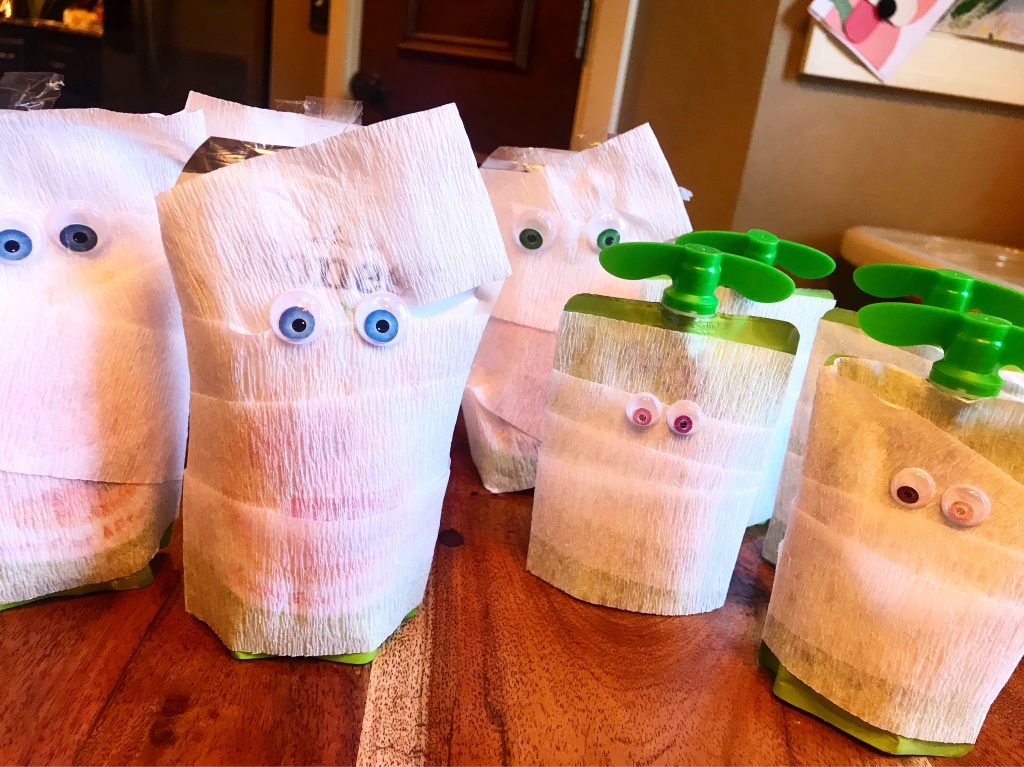 Pumpkin Patch Brownies
Again, this is super simple.  You can use homemade or store bought brownies.  You'll need brownies, popsicle sticks (4 per sign), a marker, and candy pumpkins.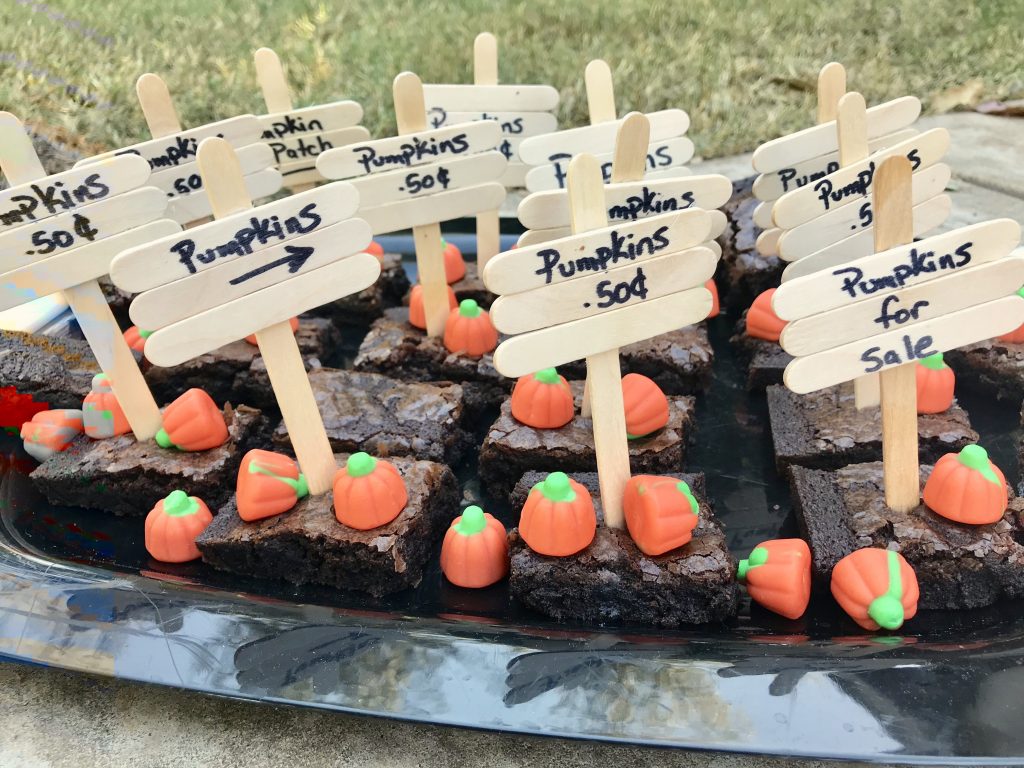 Pretzel Spider Webs
For this simple treat you will need small pretzel sticks, white melting chocolate and chocolate.  Place pretzel sticks in a circular pattern.  Melt white chocolate and place in piping bags or plastic sandwich bags with the corner snipped.  Connect the pretzels in a web-like shape using the white chocolate.  Let cool.  Melt chocolate and pipe a large dot, the spider's body, in the center of each web.  Add legs.  Cool completely.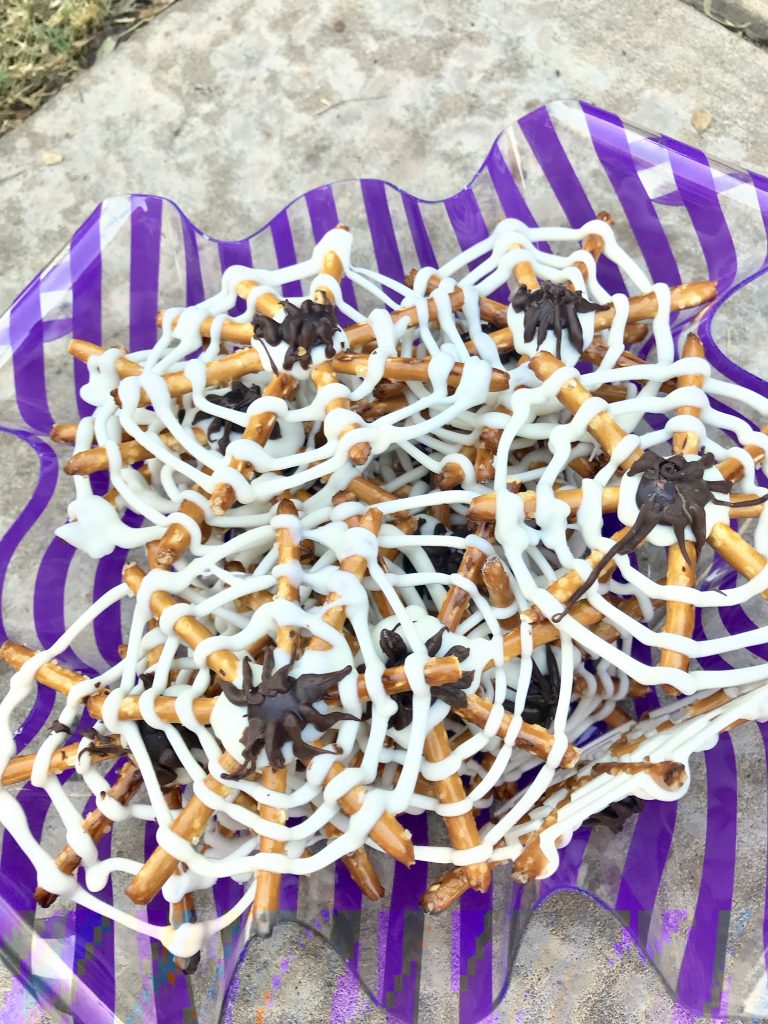 Boo-nanas and Boo-scuits
This may not be the most delicious breakfast you can serve, but it sure will be one of the most fun.  Set out lots of toppings for your little ghouls and let them decorate biscuits and bananas.  Some of our favorite toppings are peanut butter, Greek yogurt, granola, mini chocolate chips, peanut butter chips, graham cracker crumbs, sliced strawberries, blueberries, large candy eyes, and small candy eyes.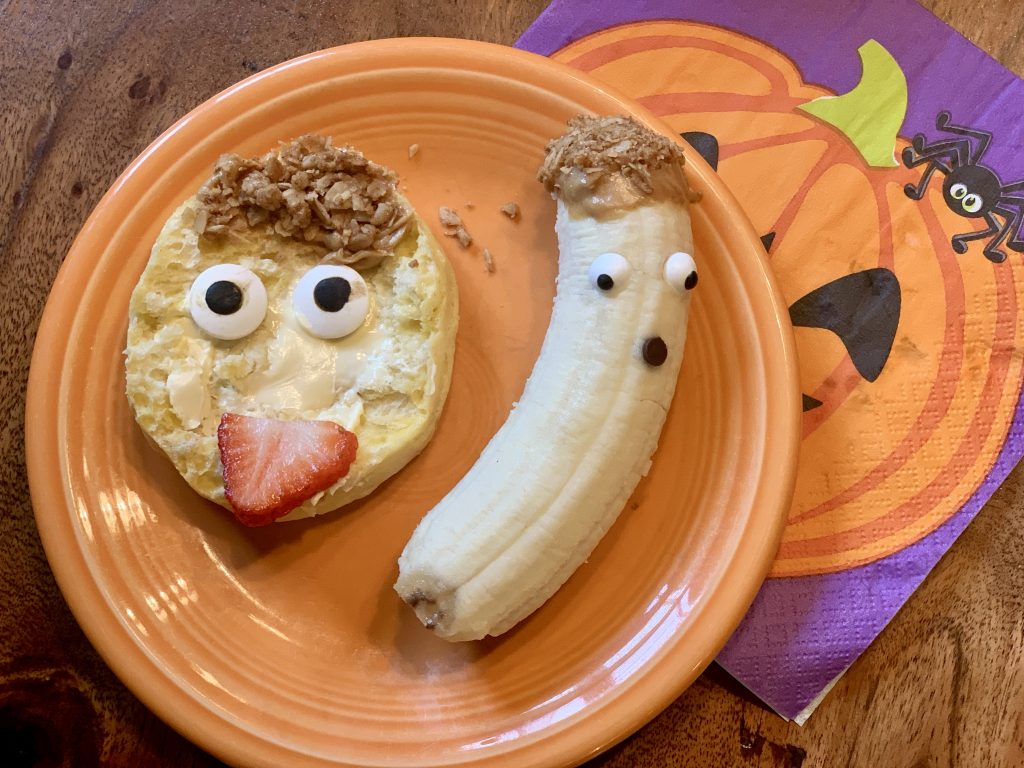 Trader Joe's Ghosts and Bats 
Sometimes you just need to grab a bag of something quick!  These crispy potato snacks from Trader Joe's are that perfect grab and go snack that you can take directly to that neighborhood Halloween party or school party.  Put them in a fun bowl and you are done!  They kids will love them!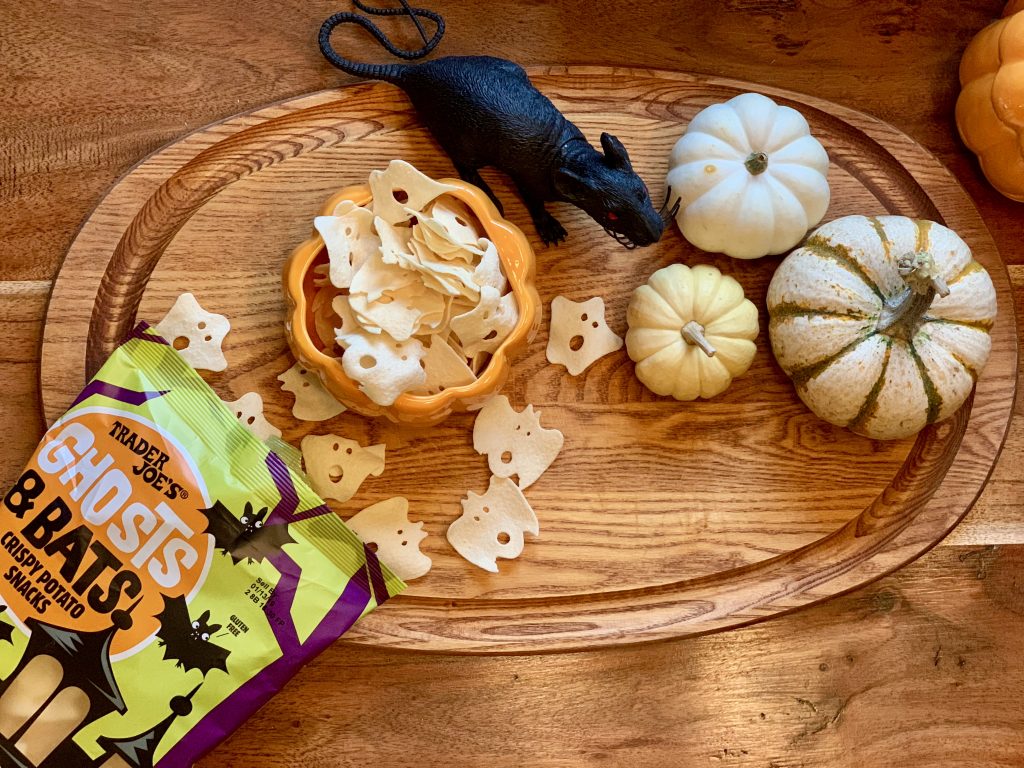 Cheese Pumpkins and Ghosts
Who doesn't love cheese?  We were in charge of cheese for the Pre-K Fall Party.  All you need is some cheddar cheese slices, mozzarella cheese slices, a pumpkin cookie cutter and a ghost cookie cutter.   Could it really have been this simple? Yep!  Done in five minutes!  Throw in a giant rat and a few pumpkins and you've got yourself a fun cheese board perfect for kids or adults.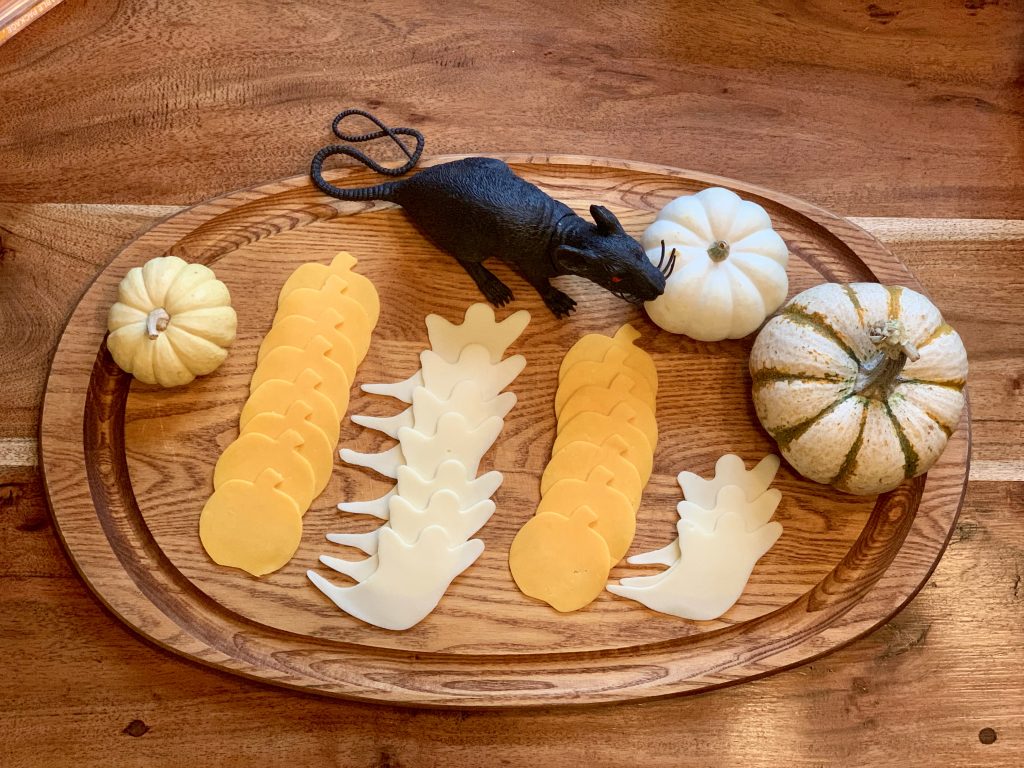 Cupcake Ghosts and Spooky Trees
These cupcakes are actually easier then they look.  You can use store bought or homemade mini cupcakes. You will need a batch mini chocolate cupcakes, white icing, mini chocolate chips, chocolate chips or melting chocolate, Halloween sprinkles.  Pipe large white ghosts onto each cupcake and finish with 2 chocolate chip eyes.  Melt chocolate and place in a piping bag or zip-lock with a tip snipped.  Pipe spooky shaped trees onto waxed paper, making sure that the trunk is nice and thick (it will be pushed down into the cupcake). Decorate with sprinkles before the tree hardens.  Allow to harden and place one tree into each cupcake.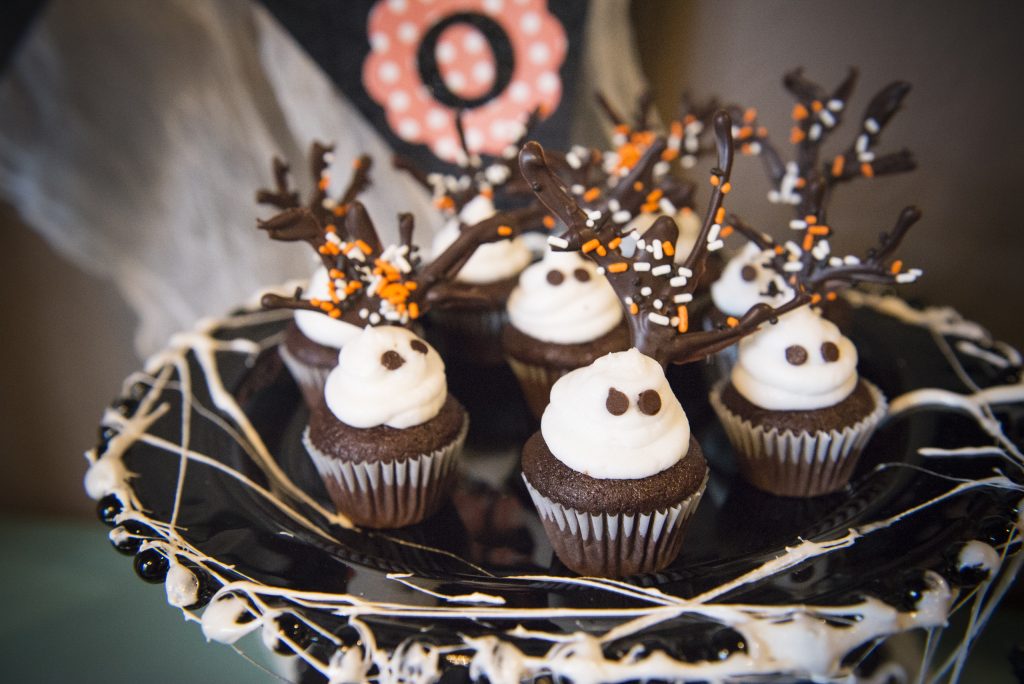 Frankenstein Cupcakes
Use either store bought or homemade cupcakes.  You will need a batch of mini cupcakes, green icing, red gel icing pen, candy eyeballs, and jimmy sprinkles.  Pipe green frosting onto each cupcake.  Flatten slightly.  Dip the top of the icing into chocolate jimmy sprinkles.  Place 2 candy eyeballs and a jimmy nose in each cupcake.  Finish with red gel stitches.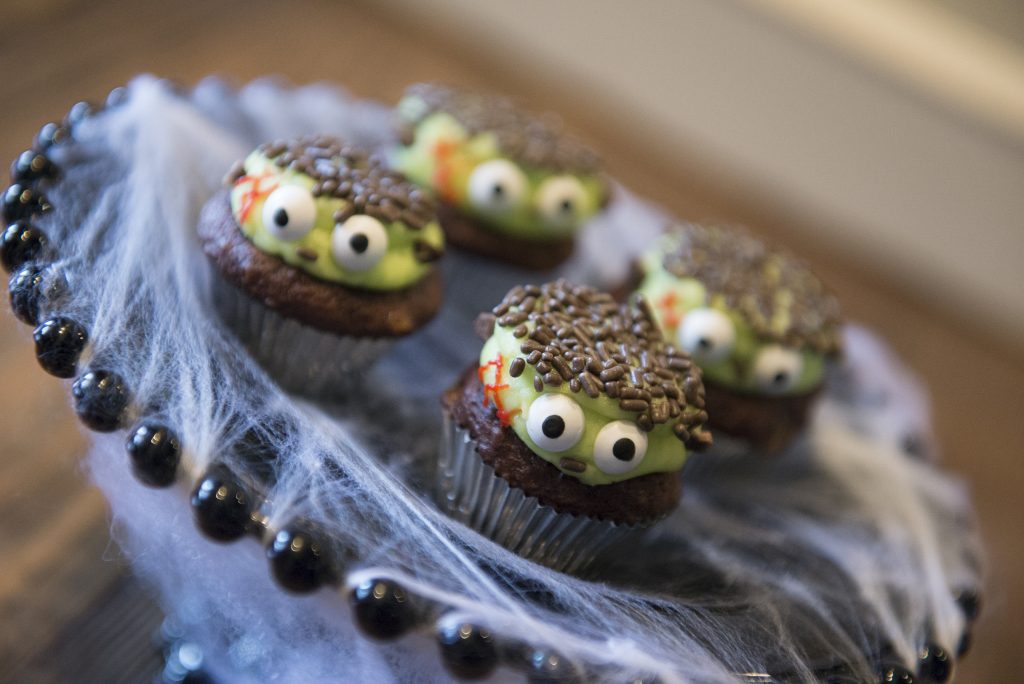 Halloween Sugar Cookies with Royal Icing
I used my favorite sugar cookie recipe to make these super fun Halloween inspired cookies.  I love rolling the dough nice and thick so the resulting cookies are hardy and not so fragile.  These cookies took a while to make but they were so worth the trouble! They were a huge hit at the Halloween party.  Love all the bright orange and green with  the black and white!  Creepy, but not too creepy!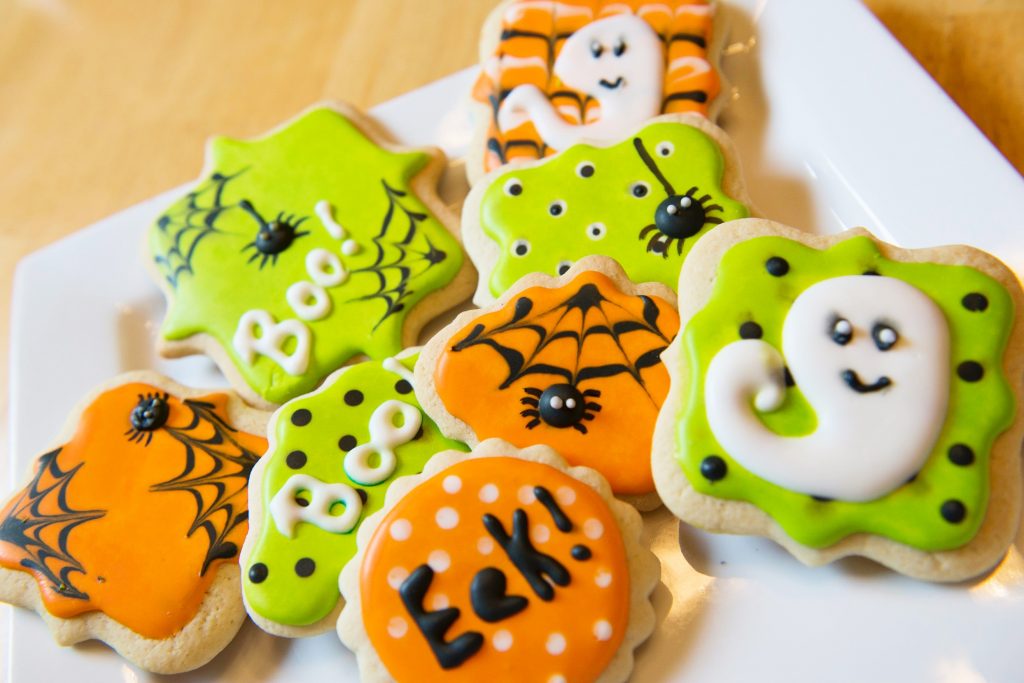 Caramel Apple "Nachos"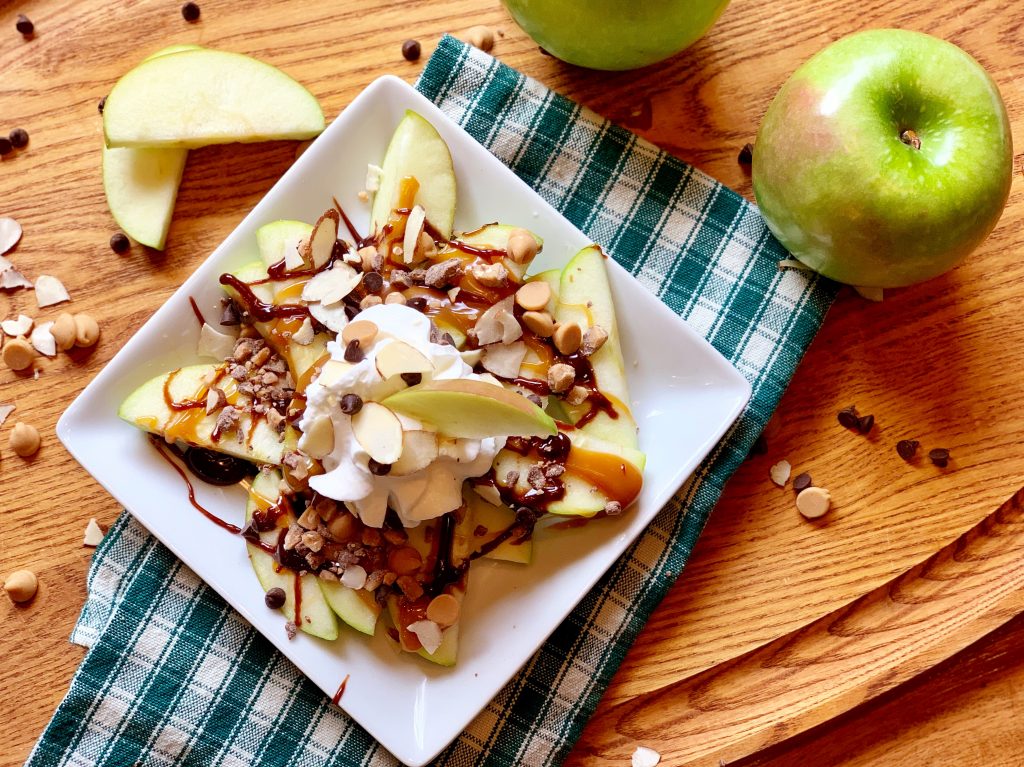 Check out our super simple and delicious recipe for a twist on the traditional caramel apple.