It's that time of year again!  That's right, Christmas time!  And we all know what that means, lots and lots of parties. Before we know it, our calendars will be filled with all sorts of parties; office parties, school parties, church parties, family parties……  We signed up for our first party way back in August on back to school night.   We signed up to bring veggies for Miss 5's Pre-K Winter party.  To be honest, we had to pick veggies because all of the rest of the items were already taken.  Don't get me wrong, veggies are a great thing to bring.  They are obviously super healthy and require very little preparation. The dilemma is that they are not easy to present in a creative and cute individual portion with a Christmas theme.  I know, because I spent an obnoxious amount of time on Pinterest looking for some ideas.  Sure, they have amazing ideas for displaying veggies in the shape of Christmas trees and snowmen but those are all for serve your self, buffet style events.  Since our party only lasts 30 minutes, start to finish, we have to bring individual portions that can be easily plated for the kids before they arrive to the party.  Finally, I found it; a Christmasy vegetable idea in a single size portion!   May I present to you the Santa Cup!  Ta Da!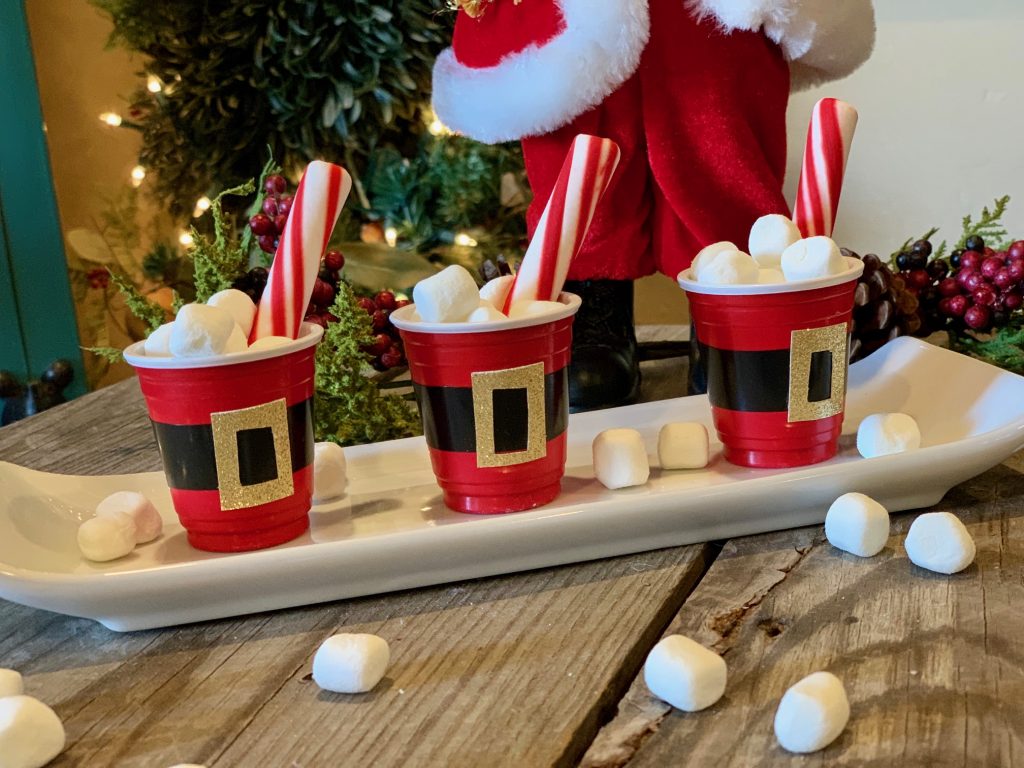 I'm totally in  love with these adorable Santa cups!  I'm going to fill them with  carrot and celery sticks and our favorite homemade ranch dressing (see recipe below).    They are such a cute and easy idea that will be perfect for any party you attend.  Not only are these cups super cute but they are super versatile as they are great for both adult and child parties.  They can be filled with so many different things from shots of adult beverages, "shots" of milk for a milk and cookie bar, marshmallows and candy canes, like I have pictured, for a hot chocolate bar, veggies and dip,  candy, …… the possibilities are literally endless!  This past weekend I filled some Santa cups with reindeer chow (aka puppy  chow) for our neighborhood North Pole party. I also brought a big tray of marshmallow snowmen toppers.   The kids, young and old, loved it all!  And I spied several moms taking an empty Santa cup home to show off.    Now that I've got you excited here's the low down on how to make some Santa cups of your own.
What You Will Need:
mini red cups (we found ours at Dollar Tree)
black vinyl electrical tape
gold glitter scrapbook paper
ruler
pencil
scissors (a small needle nose pair works best)
glue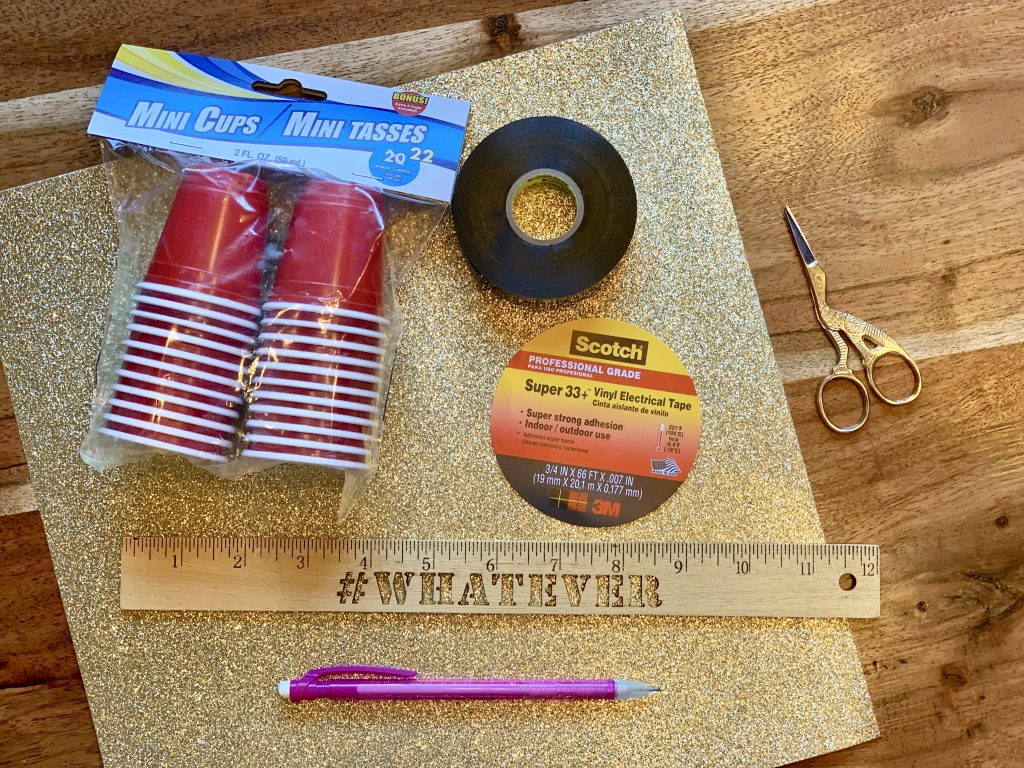 How To:
 Wrap each cup with a piece of electrical tape to form Santa's belt.  Electrical tape works great because it sticks and resticks easily.
Draw rectangles on the back of glitter scrapbook paper, 1 per cup.  My rectangles are 3/4 inch by 1/2 inch but you can make them any size you like.
Cut rectangles out. (see photo)
Turn rectangles over, glitter side down, and draw a square in the middle.  This will be the part that you cut out.  As you can see my lines aren't straight because I freehanded my squares.  For straighter lines, I recommend using a ruler.
5.  Cut out inner square.
6.  Place a small amount of glue on glitter square and adhere to red cup, making sure seam of black tape is towards the back.
Now, fill with your favorite snack, treat or craft project!
Mazzio's Copycat Ranch Dressing
We are ranch dressing snobs. If it doesn't taste like Mazzio's or Wing Stop's then we won't touch it. This recipe is the closest one that we have found! For ease, we like to mix and store ours in a large Mason jar.
Ingredients
1 oz

package

Hidden Valley Ranch Dressing Mix

3/4

cup

buttermilk

1 1/2

cup

Hellman's mayonnaise
Instructions
Mix all ingredients together in a mason jar. Seal with lid and refrigerate for at least 1 hour before serving.
Do you love our Santa cups? Check out our
marshmallow snowmen hot cocoa toppers!
Do You Want to Build a Snowman? Kit
We would love to see all of the amazing ideas you come up with!  Please share your finished products with us in the comments below!