Santa first introduced us to these adorable hot chocolate snowman toppers last year.  You can get them at Sur La Table, $10 for a box of 6, if Santa doesn't bring them. They sell out pretty fast and are only available around Christmas, so I came up with my own DIY version this year.  They are pretty simple to make and require very few ingredients. The kids love to float them in their hot cocoa but you can eat them all by themselves too.  In fact, I made a big tray of them , along with some Santa cups filled with reindeer chow, for our neighborhood North Pole party and they were gobbled up before I knew it!
A few years ago I started setting up a hot chocolate bar on our counter during the winter.  I picked up a cute wooden tray with handles at Hobby Lobby and stocked it with our favorite snowmen mugs, various hot chocolates (Abuelita Mexican Chocolate, Trader Joe's Sipping Chocolate, etc. . . ) and mason jars full of mini marshmallows, old fashioned peppermint sticks, and our new favorite- snowmen toppers!  They are seriously so adorable!  How cute would they be as part of a hot chocolate gift set for teachers or friends?  – mug, packet of hot chocolate, peppermint sticks and these little cuties!   Ok, are you ready to make some of your own?  Let's do it!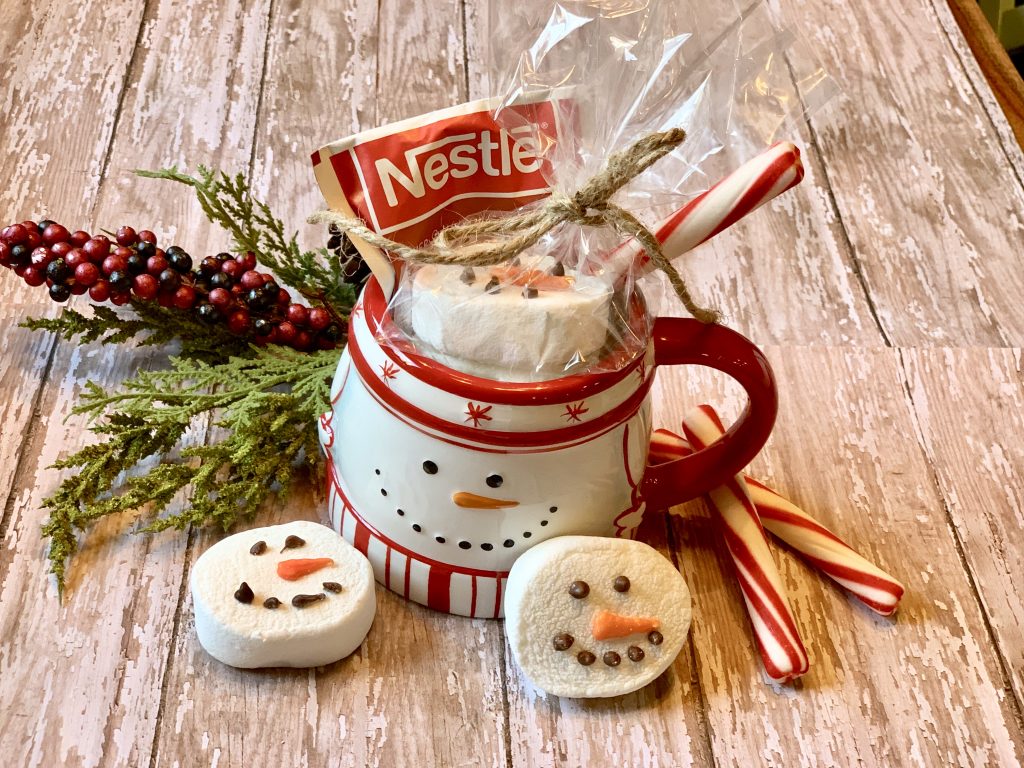 What You Need:
*1 bag of giant marshmallows (we found ours at Walmart)
*Powdered Sugar
*Orange candy melts
*Chocolate candy melts
*Piping bags or zip-lock bags
*Piping tip with small hole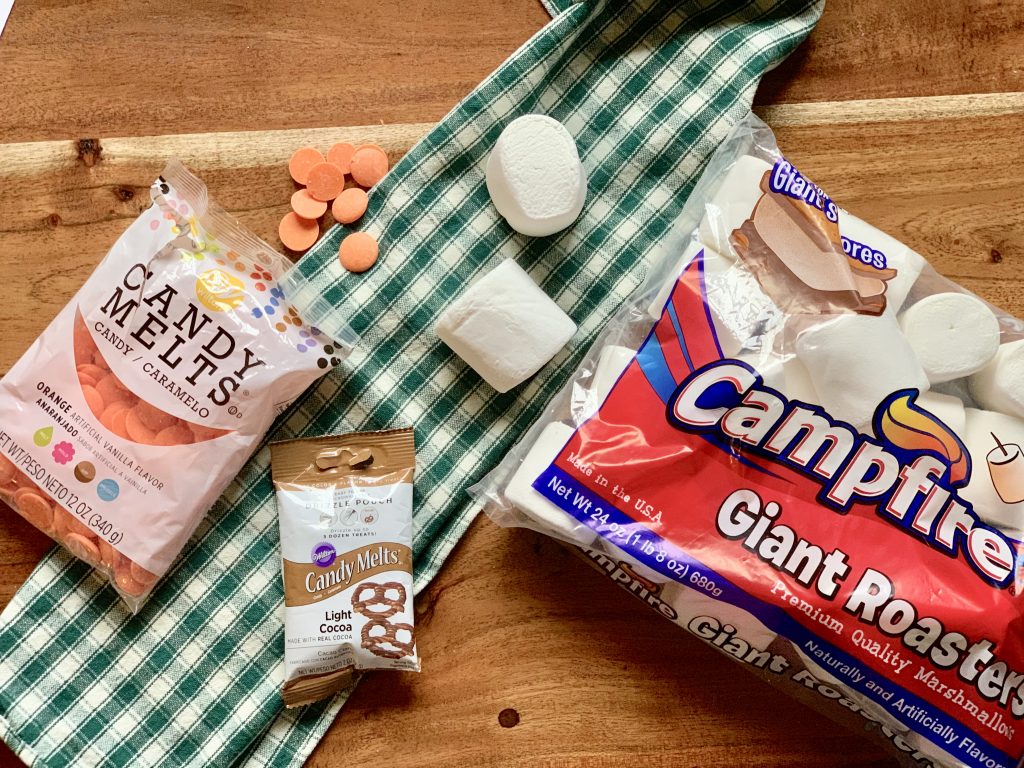 How To: Using a sharp knife, cut each marshmallow into 3 equal pieces. They will be very sticky on the cut sides.
Roll in powdered sugar to eliminate stickiness.  Tap off excess powdered sugar.
Melt orange candy melts according to package directions.  Place in a piping bag or ziplock bag with a corner snipped.
Pipe a "carrot nose" in the middle of each marshmallow.
Melt chocolate candy melts according to package directions.  Place in a piping bag or ziplock bag with a corner snipped.
Pipe "eyes" and a "mouth" on each marshmallow.
Allow to cool completely.
Store in an airtight container.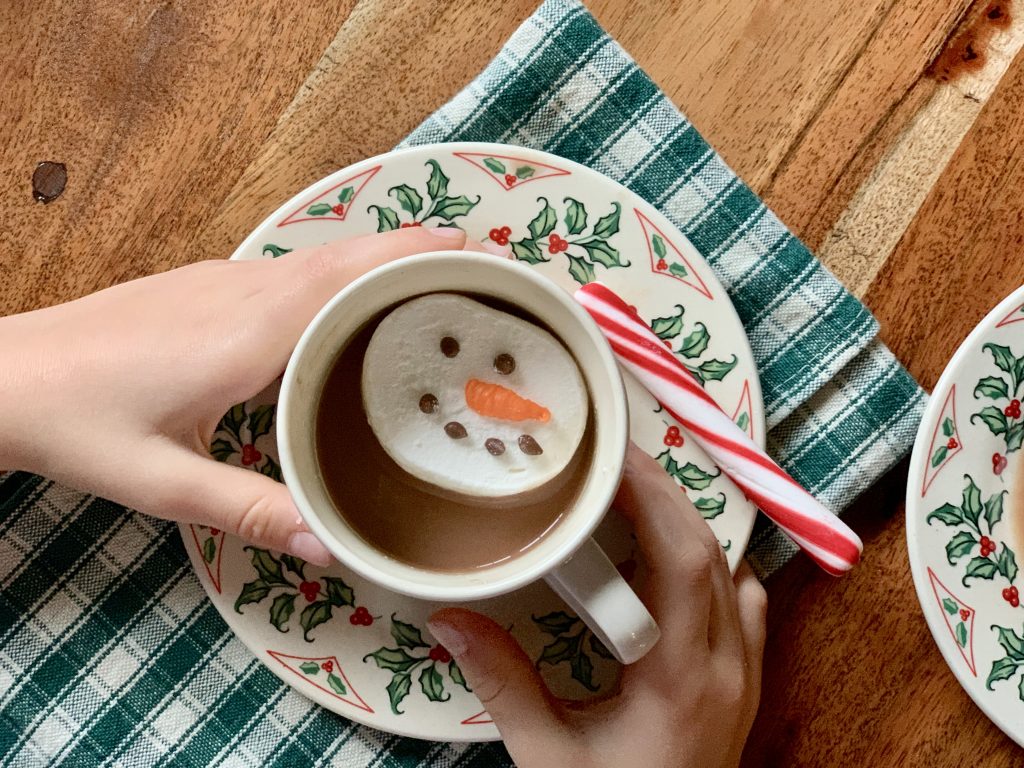 We love to read Sneezy the Snowman by Maureen Wright and drink a nice warm cup of hot cocoa.  How cute would a copy of it and a cute little bag of snowman marshmallow toppers be for your favorite snow loving friend?  Know anyone who needs some snowmen toppers?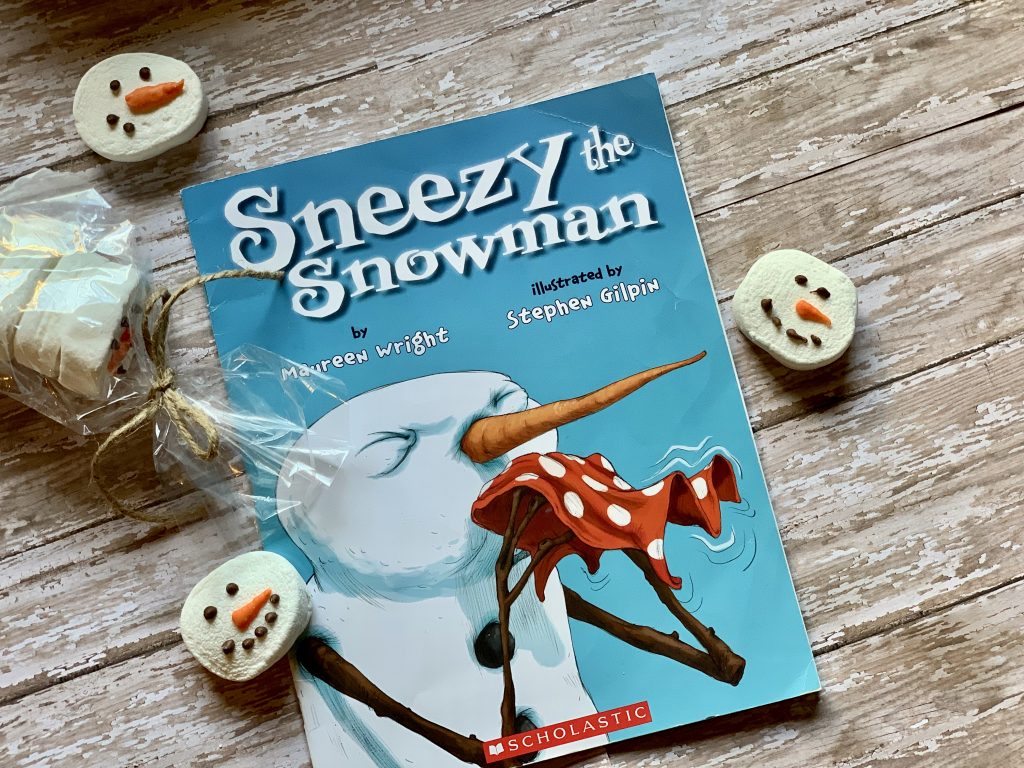 Do you love our snowmen marshmallows? Check out our
Do You Want to Build A Snowman? Kit